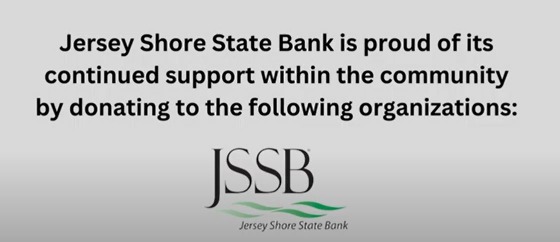 _______________________________________________
| | | |
| --- | --- | --- |
| | | |
| Along with a $1,500 donation to the James V Brown Library in Williamsport JSSB also donated drawstring bags for the library's kids' reading program. Accepting the donation on behalf of the library was CFO/CEO, Kristin Caringi and Executive Director, Barbara McGary. JSSB employees presenting the donations were Regional President, Garrett Sanner and Management Trainee, Natasha Mantle. | Karen Young, JSSB President, Tara Weaver, Duboistown Branch Manager, Wanda Fortin, Mortgage Loan Sales Manager along with Shannon Newman Mortgage Loan Assistant joined Angle Fortin, Manager of the Duboistown VFW and volunteers at the monthly Military Share Food Distribution Day! In addition to packing bags of food JSSB was honored to make a $2000 donation to help support the VFW Post 7863 and our local veterans – thank you all for your service! | The New Love Center in Jersey Shore was given a $25,000 donation! Alice Fox, Director of the Center, was able to accept the donation and expressed that the money will be used to repave the parking lot making it a lot more accessible and safer for the Food Pantry's patrons.  This donation was presented to the Center by Samantha McIlwain, Jersey Shore Main Street Branch Manager; Krista Gephart, Regional President; and Jodi Heck, Commercial Lender. |
For more information on JSSB's Community Support, please follow us on 
_______________________________________________
JSSB Puts Food in The Bank
Febuary 2022 - It started back in December of 2021 when Jersey Shore State Bank saw a need to put more than money in the bank, they wanted to put food in the local foodbanks.  "We wanted to help, but also wanted to make sure that our contributions would stay local and help those in our own communities", said Richard Grafmyre, CEO of Penns Woods Bancorp.  
JSSB pledged that with every loan closed in the months of December, January, and February it would donate $25 to a local food bank.  This promise led to a total of $24,000 being donated to 22 different agencies located from Williamsport to Altoona.
The 22 agencies that received donations were The Salvation Army-Williamsport, Family Promise of Lycoming County, St. Vincent DePaul Assumption Chapel Food Pantry, So Journer Truth Ministries, The Salvation Army-Lock Haven,  Trinity United Methodist Church, Milesburg Presbyterian Church, The Salvation Army-Altoona, Union-Snyder Community Action Agency, Son Light House, American Rescue Workers, Altoona Food Bank, Blanchard Church of Christ, Faith Centre Food Bank, The New Love Center Café, First Baptist Church of Altoona, Footprints of Montgomery, Grace United Methodist Church Food Pantry, Shiloh United Church of Christ, State College Food Bank, United Churches Food Pantry, and the West End Christian Community Center Food Pantry.
"JSSB is always looking for ways to give back to the communities that we work and live in.  Donating to the local foodbanks has given us the opportunity to touch many lives", said Karen Young, President of Jersey Shore State Bank.
_______________________________________________